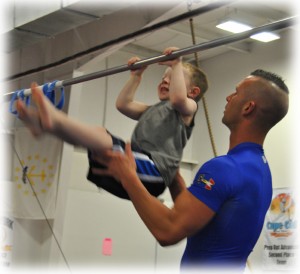 Our gymnastics facility is a great place for kids! Our specially designed air-conditioned gym contains 9,000 sq. ft. of the most innovative equipment including: Olympic apparatus for girls and boys, large trampoline, in ground foam training pit, and a dance/art studio.
Spectrum has provided quality instruction in Brockton "The City Of Champions" for 39 years. Our experienced U.S.A.G. safety certified staff provides cutting-edge gymnastics instruction through a logical progression of skills. Parents can observe from our mezzanine as their child enjoys their gymnastics lesson in a clean and safe environment.
Dear Parents,
For a multitude of reasons parents choose gymnastics classes as an extracurricular activity for their children. Some choose to enroll their child in our program for a structured fitness program, for recreational purposes, or to perfect skills for advancement into competitive teams. Others enroll their child in our program because a physician has recommended therapeutic exercise. For whatever reason you have chosen gymnastics with Spectrum, we are pleased to have you join us.
Our programs are designed to target all of your reasons for choosing gymnastics at our school. Your child will be provided a learning experience that will allow them total body fitness, healthy and fun recreational activity, the opportunity for advancement to competitive teams, and therapy for various physical challenges. In addition, your child will participate in a sport that enhances their general learning potential by developing the following key skills and attributes:
Concentration and Focus
Self-pride and Self-confidence
Cooperative Working Skills
Auditory & Visual Learning Skills
Goal Setting
Furthermore, gymnastics develops essential skills necessary for successful participation in all sports, including:
Flexibility
Fine and Gross Motor Skills
Coordination & Agility
Balance & Poise
Strength and Conditioning
Endurance
As you well know, your child's success depends on the learning opportunities you provide for them. We at Spectrum are proud that you have chosen our school to play a part in your child's development, their future.
Sincerely,
Michelle Farley
Director/Owner
---
Spectrum Gymnastics is home to three High School Varsity Gymnastics Teams: