Before your child's first class
Parents should review student guidelines with their child before the first day of class. Please help us reinforce these rules.
On your child's first day
Please begin by registering at the front desk. A release of claims form and a medical form must be completed.
If your child is young, nervous, or new to our gym, it would be helpful to escort him/her to the locker room to get ready for class. Parents may observe classes from the mezzanine only.
Instructors will review the student guidelines with each class.
When class is over, your child will be directed to the foyer and dismissed when you arrive.
We're excited to have your child in our program and look forward to working with you!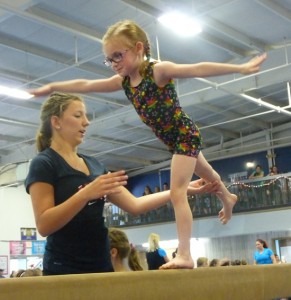 For every class
Please remember to check in at the main desk for your child's regular classes as well as make-ups.
Please have your child to class on time and please contact us if you are going to be late picking up your child. Please inform your child if someone different will be picking them up and it would also help to notify the office staff.
Please keep your children off all equipment,

including the floor mat

, before and after class. Children not enrolled at Spectrum are

not

allowed in the gym area.
During class time, please leave the teaching and discipline to us. Many young children are beginning a structured class for the first time. Part of the learning your child will receive involves:

Listening to directions.
Keeping his/her spot in line
Taking turns being first and last in line
Working cooperatively with other children & instructors

We know that watching your child go through this process of learning is difficult. However, we ask that you refrain from giving your child instruction or discipline during class time. What may be helpful is to remind your child to listen to the teacher before class begins.
If your child is unhappy with his/her class, please observe the class first. If you feel the class is not right for your child contact the main desk. Our office coordinators will work with you to find a solution and keep any problems confidential.
Parking
Please enter our parking lot at a

reasonable

speed, bearing right around the circle so our building on your right.
Please do not use our handicap spaces for parking, dropping off, or picking up, without a handicap plate.
Because children are constantly entering and exiting the building, do not park vehicles anywhere near the glass entryway. Please do not block our entryway to the building for the same reason.  Please inform any other family members who may also be involved with your child's transportation to and from Spectrum.
Observation
You are welcome to stay and observe your child's class or feel free to leave, whatever you are more comfortable with.
Observation is from the second floor mezzanine only. Please keep small children away from the railing. Also, please keep glass containers, food, toys, etc. away from the railing.
Parents of newly potty-trained preschoolers should bring a change of clothing and plan on staying for the duration of class.
If you watch during class, we encourage you to clap and applaud your child.
Children not enrolled at Spectrum are

not

allowed in the gym area.
Teacher Evaluations
At the conclusion of the first eight weeks, our office staff will distribute teacher evaluation forms for parents to voice their compliments and concerns.